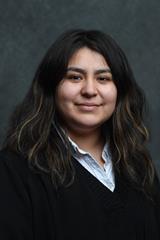 Mirka Arevalo was born and raised, most of her life, in Queens, NY. Mirka obtained her bachelor's in aerospace and mechanical engineering from UB and is pursuing a master's in engineering management; she anticipates graduating in 2023.
Throughout her time at UB, Mirka has taken on various leadership positions. She is currently the Vice President for UB's National Residence Hall Honorary, where she coordinates volunteers with local nonprofits. She additionally assists the UB School of Engineering and Applied Sciences' outreach efforts by mentoring middle/high school students, as well as leading STEM programs with local predominantly underserved k-12 students. Additionally, Mirka is currently the Lead Venture Coach at Blackstone LaunchPad, both advising student entrepreneurs on how to develop their start up's and aiding behind the scenes.
Mirka is dedicated to bridging gaps in diversity, leading to equitable engineering practices that feed innovation. As a woman of color in STEM, Mirka has seen how the lack of diversity impacts universal design. This interest led her to cofound her startup BOSQ, which focuses on redesigning the breast pump. With continued support from UB and Buffalo, she will continue tackling one engineering problem at a time.