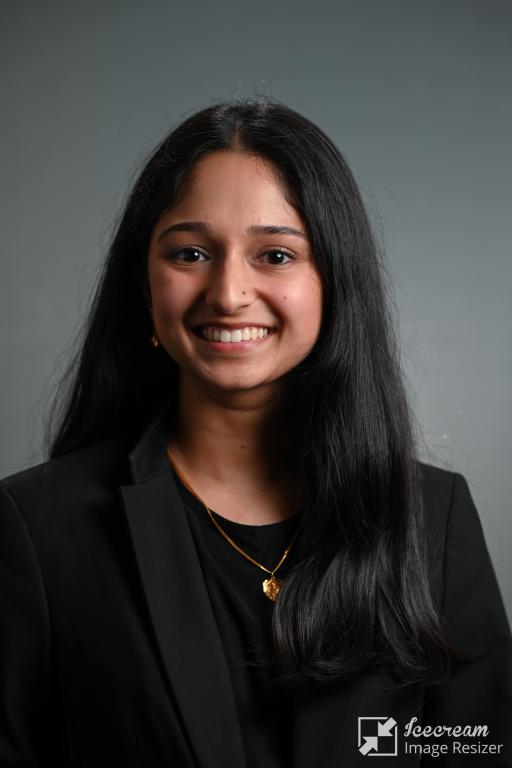 Srikrithi Krishnan, a Buffalo native, anticipates graduating from the University at Buffalo (UB) in May 2025 with a master's in public health and a master's in business administration.
Srikrithi has worked in the School of Public Health and Health Professions as a student assistant. She is a vital part of the dean's office and helps with marketing and recruitment for the school.
Srikrithi recently had the opportunity to meet the Vice President of the United States of America on two separate occasions. This was monumental to Srikrithi to see someone with an ethnicity like hers be in a high place of leadership. It reignited Srikrithi's spark to create lasting change in her community and the world.
Srikrithi also volunteers at Lighthouse Free Medical Clinic, which offers free medical services to underserved communities. This volunteer opportunity has helped her gain insight on her community's needs and aligns well with what she hopes to do in her future career in Buffalo.
Through research, school, and personal experiences, Srikrithi gained a passion for creating accessible and affordable access to healthcare in disadvantaged communities. Her future goals include creating a nonprofit organization that enables individuals to have access to equitable and quality healthcare. She hopes to utilize her knowledge and experience to promote diversity, equity and inclusion in her Western New York Community.
In her free time Srikrithi enjoys spending time with her friends and family. She is a pasta enthusiast who loves cooking and baking. She enjoys hiking in the summertime and discovering local restaurants with her friends. She is incredibly grateful for the community around her and attributes much of her success to the support she had growing up in WNY.